Behind the Album
Women and Friends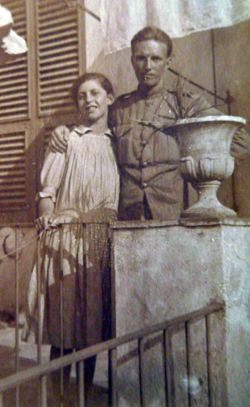 Many of the cards in this album were written to my grandfather. Almost all of these are from women. Some of his French (Renée, Yvonne, Margot, Rachel, Manon) and Italian (Gilda, Ida) female correspondents are fairly ardent in their postcards sometimes. It is hard to imagine how the thoughts and desires of an 18 year old French peasant girl like Margot expressed themselves in 1915, whether she had real encounters with Percy or just a teenage crush, we cannot be sure. We know Margot and Percy exchanged photographs and she sent him a handkerchief.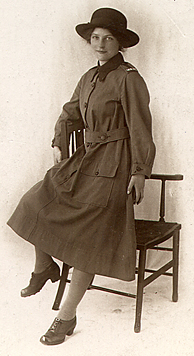 We must not forget that these people were all very young and found themselves in the midst of a major conflict. The French people of Picardy did not know how far the Germans would advance, and whether or not they would be slaughtered in atrocities like some of their Belgian contemporaries. The villages around Abbeville (like Le Plessiel where Margot came from) were perilously near the front line, but although we now know that they were spared, (in WW1 anyway) they did not know at the time how it would turn out. In wartime different rules apply, but I like to think that my grandfather, (who you will see is a handsome man) was caring towards these ladies, either as a friend or a lover. Their messages to him would indicate a great deal of affection was reciprocated.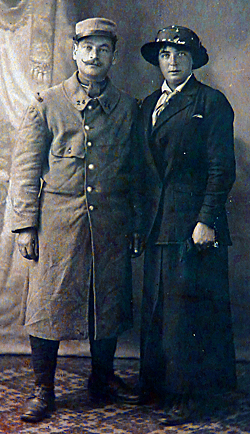 There are a couple of cards from mates and several from someone called Paule Mowinckel. Later on Paule seems to be in the same locations (Geneva, Uriage-les-Bains) as the woman called Manon. I like to think they are in this photograph on the left. In her last card to Percy, Manon writes: "I wonder if we shall ever see each other one day? I hope so! Do you? ". I find this very touching, as in all probability they never met again.

The Spanish Flu pandemic of 1918-9 which claimed so many lives in Europe is not mentioned by anyone by name, though there are a couple of cards sent to Percy where people complain of being ill around that time. We shall never know how it turned out for them.

Not included in the album, but part of my inheritance is a large photograph (below) of the Women's Army Auxiliary Corps at the same building as the "L" signal company in Le Havre. The mystery WAAC who perches on the chair arm in her uniform (above), is in the front row. The man next to her with the distinctive eyes was called Burt Chambers, he appears in a lot of photogrpahs. A lot of the women look French to me but I can find no evidence of the recruitment of women other than English Nationals at this time.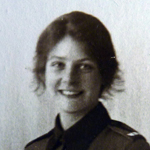 I think for the most part he was happy in Italy, I know he loved the food and the music and as a keen swimmer, loved being on the Ligurian coast, at Savona particularly. The house in Cottingham where my mother lived as a child was called "Savona" and my aunt (born 1925) was named Lucia after the heroine of Puccini's La Boheme: "Mi chiamano Mimì, ma il mio nome è Lucia. (They call me Mimi but my name is Lucia)" . See maps and links